Tackling the plastic problem: why I wrote a book for children all about plastic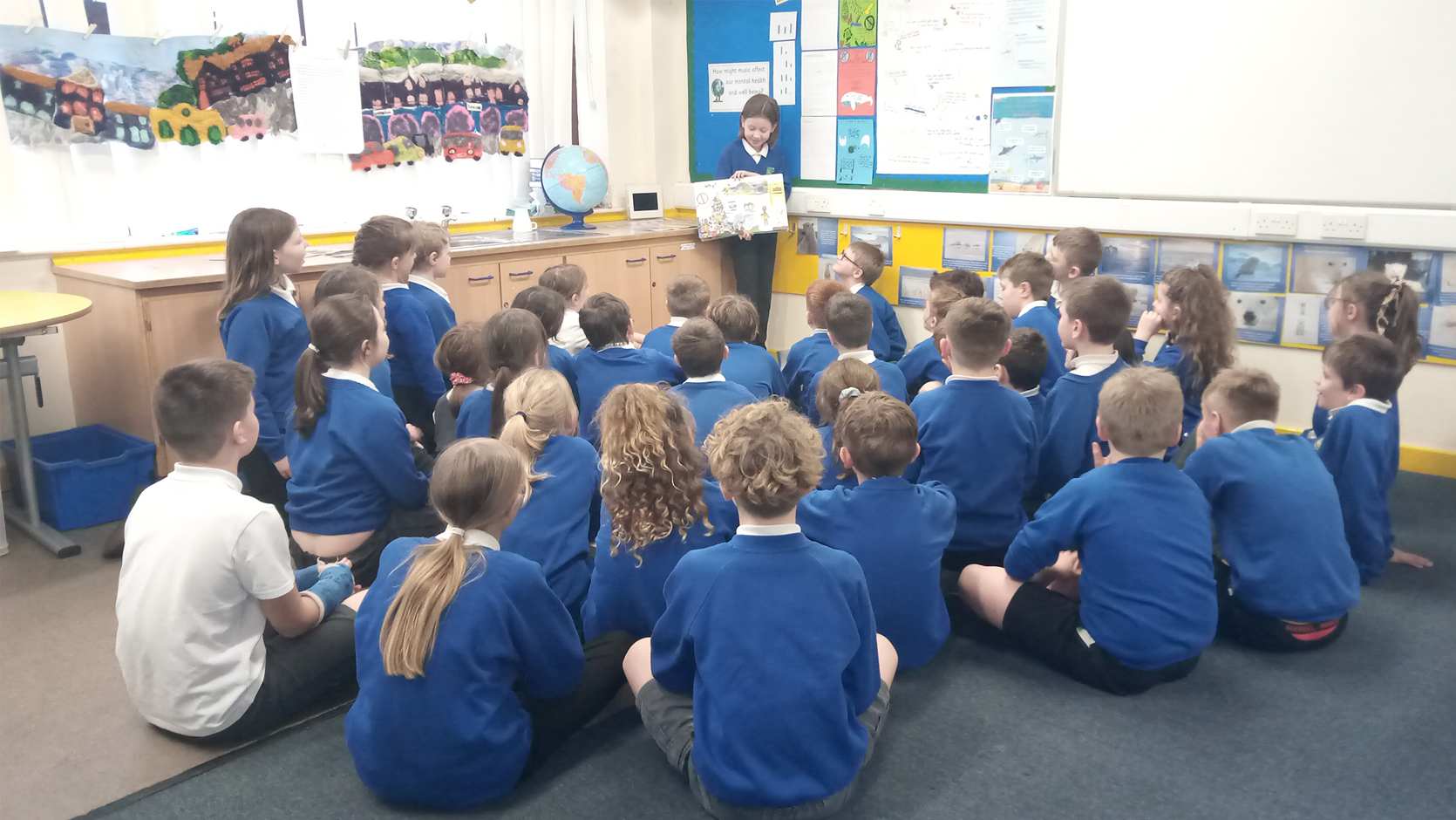 Katie Daynes, author of the Usborne book Lift-the-Flap Questions and Answers about Plastic, is grilled by the Year 4–5 children at Settle Primary School in Yorkshire. This interview features in the 150th Edition of The Friends of the Dales' Yorkshire Dales review.
What inspired you to write this book?
Watching David Attenborough's Blue Planet II was the moment I realised just how awful the plastic problem is - and how crazy it is that we take something that's made to last forever and use it just once. I decided a questions and answers book would be a great way to explore this topic.
Do you know how strong plastic is?
It depends how thick it is and what kind of plastic you're using. Park benches can take the weight of lots of people and last for hundreds of years, but you can easily tear clingfilm or scrunch up polystyrene.
Which single use plastic is the worst?
Polystyrene take-away trays are definitely one of the worst. You can't recycle them and they easily break up into little pieces of plastic that will damage wildlife for years to come.

Katie Daynes
Do you only write information books?
Yes, pretty much. I've written a few fairytale retellings, but information books are my passion. I love writing about something that's really real.
Pages from the Usborne book Lift-the-Flap Questions and Answers about Plastic
How long will it take us to make a difference to the amount of plastic waste?
You can make a difference today! Simply by NOT BUYING things wrapped in pointless plastic, you're helping the problem. But it will take much longer for manufacturers and consumers around the world to change their habits. Governments can help by introducing strict rules banning single-use plastics.
Where did you find the facts for the book? And... How did you know it was correct?
Documentaries were a really good starting point. There's a fantastic documentary called A Plastic Ocean produced by Jo Ruxton, who has also worked with David Attenborough. I contacted Jo and asked if she could be an expert adviser on my book and she was delighted to help. I found lots of useful information online, but sometimes it's hard to know what the REAL facts are, so then I would ask Jo and she would set me straight.
Are you trying to help plastic pollution and climate change?
YES! After starting work on my book, I wanted to do more in my local area so I set up Plastic Free Skipton. We hold events, write articles and give talks to explain more about the problems with plastic and how we can all make a difference. I'm now writing a couple of books on climate change and I've taken part in several climate strikes in Skipton. I also try to make changes in my own lifestyle. It always feels better to be doing something rather than nothing.
What made you think about the idea of the book?
I've written lots of books in the Lift-the-Flap Questions and Answers series, and it seemed like an obvious fit for the subject of plastic. People have so many questions they want answered - the book was my opportunity to help.
Did you write the book because you wanted to spread the word about us stopping using single use plastic?
Absolutely! But also because I wanted to explore the topic further. How did we get into this situation? It's fascinating to learn that plastic was originally invented to PROTECT nature. And even now, there are still some very good uses of plastic. But yes, it's the single-use plastic and our throwaway society which really has to be stopped.
How did you come up with so many great ideas for the book?
I'm lucky to have two inquisitive kids myself, who are the inspiration behind many of my books. I think kids are much better at asking questions about the world than adults. As people grow up, they stop questioning why things are the way they are and just go along with it. I think it's extremely important never to stop asking questions. How else are we going to make a better world?
Do you use more than or less than 100% plastic?
Much less! But rather than replace plastic things with non-plastic versions, I often try to use nothing at all. For example, I'd rather have no straw at all then use a paper one which gets thrown away. When I buy apples or onions or carrots I don't use a plastic bag or a paper bag - I just put them loose in my trolley, then put them all in my reusable fabric bag.
How much research did you do for the book?
LOTS! Not just for writing the text but also for finding references for the illustrator, so the images could be informative too.
How long did it take you to research facts for the book? And... How long did it take you to write the book?
Hmmm that's hard to say. It probably took a month to research and write the first draft of the book, but more like six months from start to finish to get the illustrations in place and working well with the text.
Do you want to get involved and help plastic pollution?

Yes, both by telling people about it through my books but also by rolling up my sleeves and trying to improve my local area, through litterpicks for example.
Why did you choose to make the book about plastic?
Because it's ruining our planet and books are a great way to educate people and empower them to make a difference.
Why did you make a pop up book, were you aiming it at a specific age?
Flaps are great because they're interactive. I mean, who can resist opening a flap! Flaps work specially well with the question and answer format. It makes the subject more attractive to children and helps them to learn. I'd say the book was suitable for anyone at primary school - but that most adults would learn lots from it too.
Did you write the book on paper before it went onto the computer?
Some of it. I like making notes by hand and coming up with the questions on scraps of paper, but quite quickly I need to type the text up on the computer so I don't lose it!
Have you ever used plastic and not recycled it? (be truthful!)
Yes, often. My family has a bad crisp habit, so lots of crisp packets end up in our bin. Now I try to collect them and take them to our local terracyle recycling drop-off point, but I wish there was a non-plastic option in the first place!
This blog was originally published in the Friends of the Dales' Yorkshire Dales Review Spring 2020 edition. Friends of the Dales is a registered charity set up in 1981 to campaign for the protection and enhancement of the Yorkshire Dales and to encourage everyone to value and enjoy the area.
About the Author
Katie has been writing non-fiction children's books for almost half her life and loves questioning the world from a child's point of view. She's developed some of Usborne's bestselling series, including the
See Inside
books and
Lift-the-flap Questions & Answers
. When she's not writing, she likes drinking coffee, walking on the moors and playing competitive board games with her children.