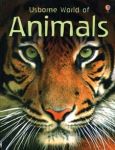 World of Animals
Age: 7+
US$16.99
Buy from:
A dazzling tour of the animal kingdom covering all four corners of the globe, from tiny bugs on Himalayan peaks to hairy rhinos in the depths of the jungle. Reveals the magic and wonder and vast variety of animals that share our world, with lively, fascinating text and stunning full-color wildlife photography. Arranged by continent, it shows the amazing ways that animals have adapted to different environments. Includes fascinating facts, animal records, a comprehensive glossary and links to websites with video clips of animals in their natural habitats, games and much more.
Extent:

128 pages

Dimensions:

8.7 x 11.2in

Paperback (direct sales) ISBN:

9780794520335

Publication Date:

October 2007

Work Reference:

01250
Quicklinks
Visit Usborne Quicklinks for links to websites with carefully selected videos and activities for this book.