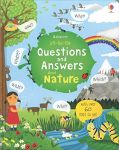 Lift-the-flap Questions and Answers about Nature
Age: 5+
US$14.99
Lift-the-flap Questions and Answers about Nature
Why do spiders make webs? Where do clouds come from? And how many leaves does a tree have? Inquisitive young children can discover the answers to these questions and many more in this beautifully illustrated information book, containing over 60 flaps to lift. A fascinating introduction to the natural world.
Extent:

14 pages

Dimensions:

8.7 x 11.1in

Board (direct sales) ISBN:

9780794541217

Publication Date:

August 2017

Work Reference:

04386
Quicklinks
Visit Usborne Quicklinks for links to websites with videos that answer more why, what, where and how questions about nature.