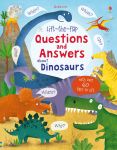 Lift-the-flap Questions and Answers about Dinosaurs
Age: 5+
US$14.99
Lift-the-flap Questions and Answers about Dinosaurs
A colorful guide with over 60 flaps to lift to discover answers to questions young children might ask about dinosaurs. Provides simple and friendly answers to questions such as "Why do dinosaurs have tricky names?", "Could dinosaurs swim?", "How big was the biggest dinosaur?" and lots more. Includes a guide to some of the more difficult to pronounce dinosaur names. With Usborne Quicklinks to specially selected websites where children can find out more about dinosaurs.
Extent:

14 pages

Dimensions:

8.7 x 11.1in

Board (direct sales) ISBN:

9780794534479

Publication Date:

March 2015

Work Reference:

03373
Longlisted
School Library Association Information Book Award 2016
A charming read with more than 50 flaps to lift.
A fascinating insight into the prehistoric world, aimed at budding paleontologists from four plus.
If your dino-mad children are plaguing you with some mammoth questions about the wonderful world of Tyrannosaurus rex and his prehistoric pals, why not let this brilliant interactive flap book provide the answers? There could be no better way to open up the inside story on dazzling, dangerous dinosaurs.
Quicklinks
Visit Usborne Quicklinks for links to websites with videos and activities that answer more why, what, where and how questions about dinosaurs.