The threats to coral reefs and how we can help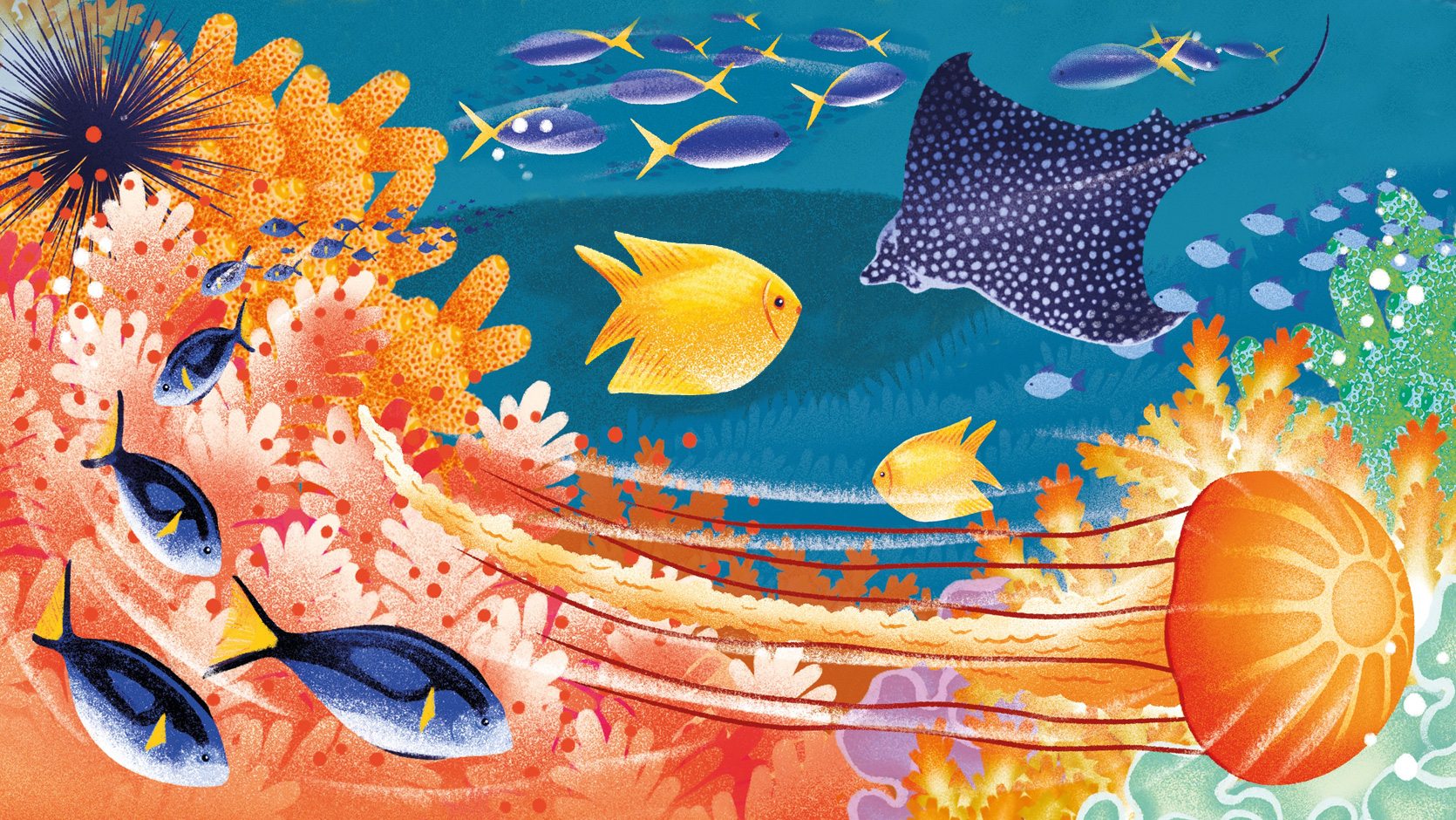 Usborne author Minna Lacey writes about some of the incredible facts she discovered while working on the Usborne children's book Look Inside a Coral Reef, including the threats to the survival of coral. But as she finds out, it's not too late to save the coral reefs, as well as the millions of sea creatures that rely on them.
Coral reefs have always fascinated me. I love the bright colours and spectacular shapes of different kinds of corals and am amazed by all the wonderful animals they attract. I was excited to get a glimpse of this myself when I was lucky enough to visit some reefs in Belize and Australia – home of the biggest coral reef on Earth, the Great Barrier Reef. But until I started researching this book, I don't think I had ever realised how many of the world's sea creatures live in coral reefs. It turns out around a quarter of ALL marine animals, including over 4,000 different species of fish, depend on reefs. This is particularly surprising because coral reefs cover only a relatively small area, about one tenth of a percent, 0.1%, of the world's oceans.
As I delved further into the subject, I was astonished to discover how important reefs are for so many threatened creatures. Thousands of green and loggerhead turtles, for instance, swim to coral reefs every year to lay eggs in their sandy shores, while humpback whales migrate across the world to give birth and care for their young in the calm, warm waters of reefs. One of my favourite reef creatures is the critically endangered dugong – a gentle seal-like animal, also known as a sea cow, that munches seagrass on the ocean floor. It's also one of the only ocean mammals that is strictly vegetarian.
But it's not just sea creatures that rely on reefs. The strong structure of reefs also creates a protective barrier against storms and flooding for millions of people that live by the sea.
Despite the importance of coral reefs, I was alarmed to find out that three quarters of reefs are now threatened, and many have already been destroyed. Volcanoes, earthquakes and storms can all cause lasting damage to reefs. But coral is also dying because of warming seas, pollution, overfishing and plastic litter, things we can do something about.
Coral is particularly sensitive to changes in the ocean, because of the way it grows. Coral is made from soft-bodied animals called polyps that catch fish and prawn-like creatures to eat with their sticky tentacles. The polyps secrete a rocky skeleton beneath them, which forms the hard structure of a reef, and thrive in clear water at a temperature of 23-29°C (73-84°F). If the temperature jumps higher, or the water becomes muddy or polluted, they reject the algae living inside their bodies. It's the algae that gives coral its colour and some of its food. Without it, coral turns white, a process known as bleaching. The good news is that bleached coral can survive and recover, as long as the water quality improves or the temperature drops.
Oceans are warming because the Earth is warming. This is due to human activities such as the burning of coal, oil and gas – known as fossil fuels. Burning fossil fuels also releases harmful gases that trap heat in the air and warm the Earth. The ocean also absorbs some of these gases, which affects the water quality. And as oceans warm, ice melts in the North and South poles, which in turn makes sea levels rise and causes flooding in low-lying reef islands, where birds and turtles nest.
Fortunately, some brilliant scientists, marine biologists and charities are working very hard to protect coral reefs. Some scientists are finding ways to grow coral in laboratories to repair damaged reefs. Governments can help by creating protected marine areas, like national parks in the ocean, where fishing, mining and big building projects are banned.
Working together, it's possible to make a difference. And it's good to know that there are lots of everyday things that you can do too to help coral reefs survive.
I've listed a few things here:
Don't drop litter, it may end up in the ocean harming coral and sea creatures.
Recycle your waste.
Cut down on using plastic that cannot be recycled.
Take a bag with you when you go shopping, so you don't need a new plastic bag.
Turn off electric lights or machines when not in use. Most electricity still relies on burning fossil fuels.
Use low-energy light bulbs.
Read books about coral reefs and tell your friends about them! Educating people about coral reefs is still one of the best ways to save them.
Look Inside a Coral Reef is published in May 2022. You may also like Coral Reef Magic Painting Book and Peep inside a Coral Reef shown below.
Discover more about threats to oceans, and Usborne books about the ocean on our Save our Oceans webpage.
Featured in this article
About the Author
Since joining Usborne, Minna has written books on everything from pirates and gladiators to jungles and oceans. She studied Maths and Philosophy at university and previously worked as a journalist and illustrator in London, Bogota and New York. In her spare time, she loves writing stories, drawing and playing the guitar.