See inside
Zoom image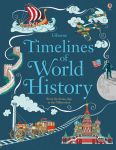 Timelines of World History
Age: 9+
US$19.99
Timelines of World History
Coming May 2024
Buy from:
A gorgeously illustrated guide to the history of the world, from wars and revolutions to ground-breaking inventions, discoveries and artistic movements. With over 3,500 key dates from the Stone Age to the year 2000, organized geographically so readers can compare what was happening in different parts of the world.
Extent:

128 pages

Dimensions:

9.6 x 12.3in

Hardback ISBN:

9781835402467

Publication Date:

May 2024

Work Reference:

03922
Longlisted
SLA Information Book Award 2017
Highly recommended.
There are many excellent world history books on the market, [but] this one is quite unique in its scope and presentation. Highly recommended for children.