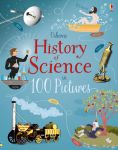 History of Science in 100 Pictures
Age: 7+
US$9.99
History of Science in 100 Pictures
Buy from:
Discover how scientists changed the world, from inventing life-saving medicines and probing the secrets of the smallest particles to sending people to the Moon – and how ground-breaking scientific theories changed our world again and again. With illustrations, photographs and links to specially selected websites for more information.
Extent:

32 pages

Dimensions:

8.7 x 11.1in

Hardback (direct sales) ISBN:

9780794544737

Publication Date:

October 2018

Work Reference:

04889
Quicklinks
Visit Usborne Quicklinks for links to websites with carefully selected videos and activities for this book.