Behind the scenes at Usborne
How do you explain viruses to kids?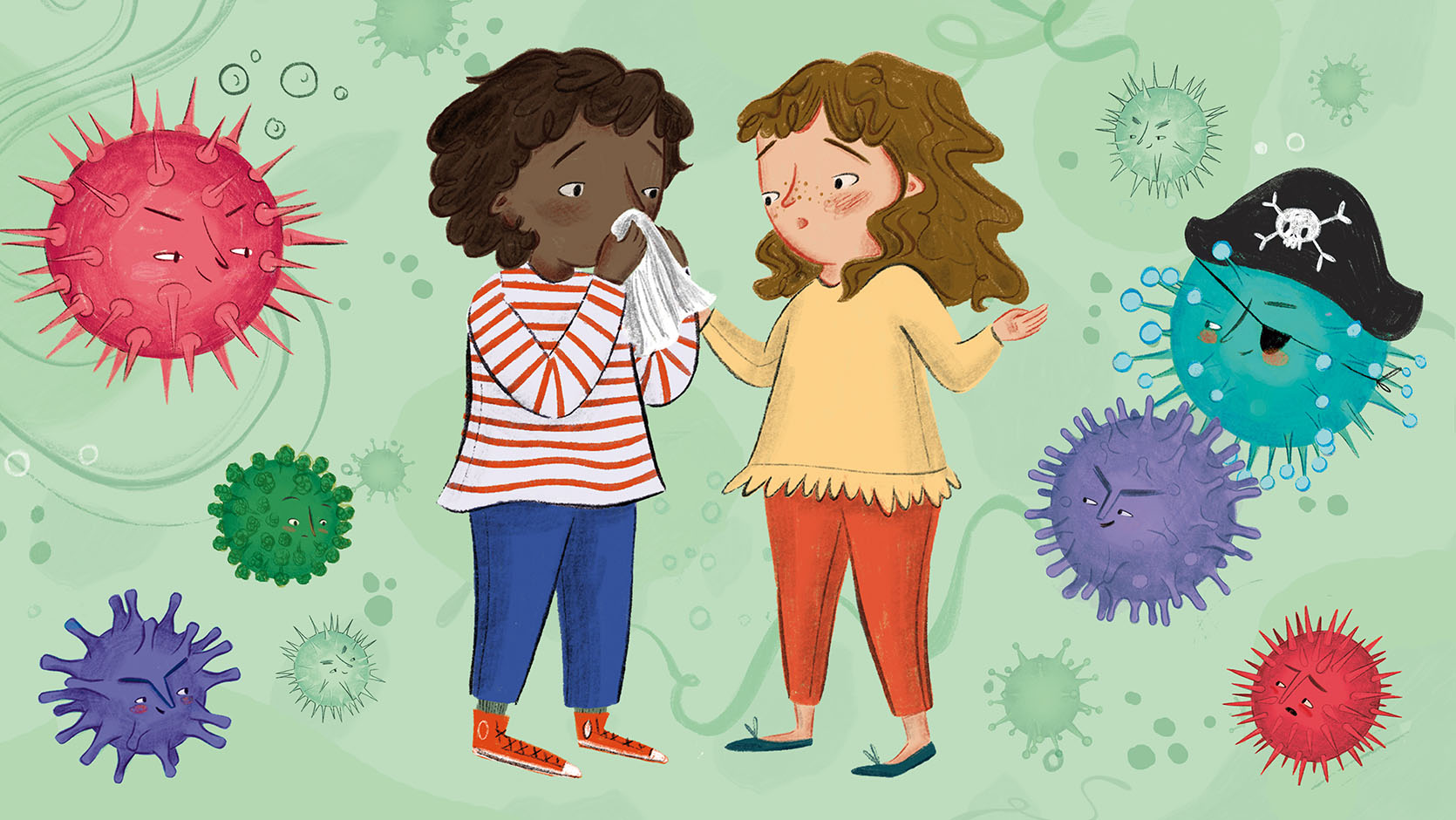 Usborne author Katie Daynes explains how she answers this tricky question in her new book First Questions and Answers What is a Virus?, with the help of expert adviser Dr Caitríona Cox – and what they both did during lockdown.
What did YOU do in lockdown?
For me, Lockdown #1 began with an urgent request from Usborne HQ: 'We need a book on viruses.'
Before COVID, we would never have dreamed of doing a book specifically on this topic – certainly not for young children. But as the news got gloomier and the reality of the pandemic began impacting on everyone's lives, young and old, explaining 'What is a virus?' to young children (and their carers) suddenly became a priority.
How do you go about explaining something that's so tiny it's invisible to the naked eye, but so powerful it can take hold of the whole world? Fortunately, I had the perfect tool at my disposal – the First Questions and Answers flap book format, using direct and pertinent questions to explore the topic through the eyes of a curious child, with quirky and engaging illustrations to match.
First I drew up my list of questions, to name just a few…
How do viruses get INSIDE us?
How can a tiny virus be so POWERFUL?
How does SOAP get rid of viruses?
Do I really NEED a vaccine?
How can I stay WELL?
Then I set about trying to answer them.
A major concern when trying to answer tricky questions simply and clearly is that you over-simplify and end up being inaccurate, so my next challenge was to find a suitable expert to advise me. I was extremely mindful of not taking up the time of a virologist, when tracking and eliminating COVID was their number one priority, nor pestering a healthcare professional, when hospitals were desperately needing all the help they could get on the frontline.
Tentatively, I reached out to our human body expert, Dr. Zoe Fritz, for suggestions. She instantly recommended her medical colleague, Dr Caitríona Cox (Cat). I'll let Cat take over the story now to explain why she was available to take on this role and what lockdown means to her…
'I am a doctor, but unlike many of my colleagues I did not find myself on the medical frontline during the early days of the COVID-19 pandemic. I have cystic fibrosis, a genetic condition which affects many of my organs – including my lungs. The mucus in my lung is much thicker and stickier than normal as a result of my condition, and this makes me very susceptible to infections. I manage it by doing daily physiotherapy and taking a large number of medications, including regular antibiotics (I have to take around thirty tablets each day!).
'Cystic fibrosis has generally not limited me too much – I completed my medical training at Cambridge and played hockey for the University first team whilst there – but in the context of COVID I am very high risk, so have had to shield. This has been very frustrating and quite isolating, particularly as so many of my colleagues have been working on COVID wards and I wanted to help!
'I have always loved reading and writing, and when I was contacted about providing some medical advice for this book I jumped at the chance! I was really keen to do something positive to help others during the pandemic, even when shielding at home. The idea of helping children to understand the situation better, by learning about viruses, seemed to fit this bill.
'The pandemic might be even more frightening for children who can't understand exactly why they are having to follow so many new rules, so I wanted to be able to help them engage with the science to hopefully lessen this fear of the unknown.
'As well as helping children to understand COVID better, I also wanted to encourage them to think about science and perhaps even inspire them to go into a medical or scientific field in the future. One of the powerful things the pandemic has demonstrated is the importance of science education across all ages.
'In producing this sort of book hopefully we can encourage a new generation of scientists through engaging them with topics such as this one and inviting them to think and question for themselves.'
Featured in this article
About the Author
Katie has been writing non-fiction children's books for almost half her life and loves questioning the world from a child's point of view. She's developed some of Usborne's bestselling series, including the See Inside books and Lift-the-flap Questions and Answers. When she's not writing, she likes drinking coffee, walking on the moors and playing competitive board games with her children.