Behind the scenes at Usborne
Farmyard Tales Poppy and Sam – a series loved by parents and children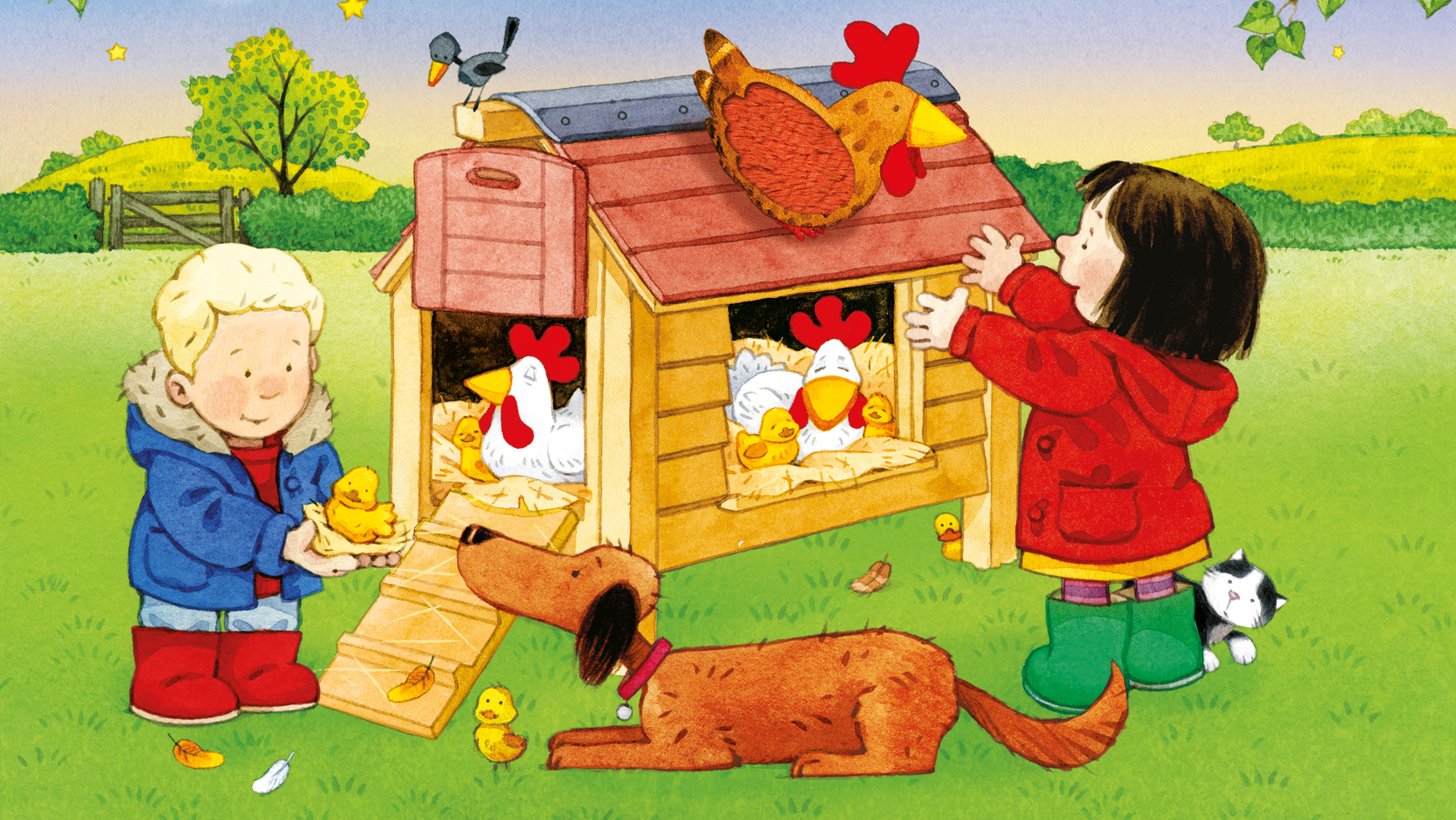 This year we're relaunching the Usborne Farmyard Tales Poppy and Sam series. We spoke to Publishing Director Jenny Tyler and Managing Editor Sam Taplin about how the series began and their exciting plans for the future.
Jenny and Sam told us:
'In about 1984 we developed a series of stories called Farmyard Tales. There were two small children called Poppy and Sam and they lived on a farm with lots of animals. Usborne in-house writer Heather Amery wrote the simple and delightful stories and the remarkable Stephen Cartwright created the characters with his wonderful illustrations – and a Little Yellow Duck hiding in every page!
It's very exciting to introduce new readers to the children Poppy and Sam, Rusty the dog, Mrs Boot the farmer, the Little Yellow Duck and all the other characters of Apple Tree Farm. Poppy is about four years old and Sam's about two, so they're a very relatable pair for preschool children.
They have adventures, find things out, get into scrapes, solve problems and generally take their first steps in life – but in a gentle caring world which we think everybody would quite like to live in.

Find the Little Yellow Duck on every page!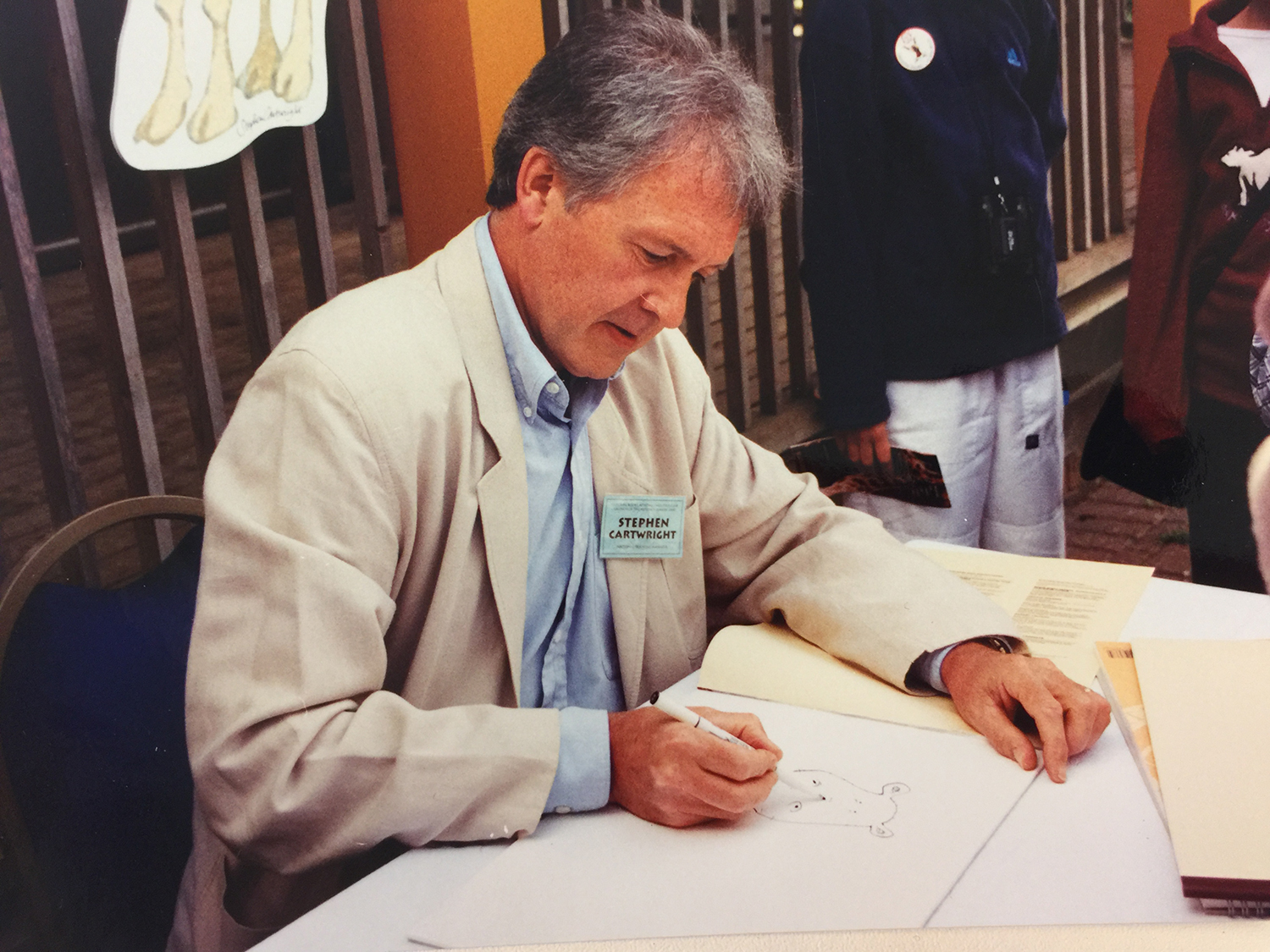 Stephen Cartwright, the original illustrator of Farmyard Tales, at work
Stephen Cartwright passed away in 2004, but his iconic illustrations, full of warmth and gentle humour, remain very popular with small children. Stephen lived and worked in an old farmhouse. His journey to work was walking down the garden path to a big converted shed where he had his studio, and he created the world of Apple Tree Farm with apple trees (of course!), a big red tractor, sheep, goats, cows and a donkey – and Rusty the dog.
The decision to revisit this world was not taken lightly as we very much wanted to honour Stephen's legacy. But now we feel the time is right to bring the world back to life – with the super-talented new illustrator, Simon Taylor Kielty.
Simon has been recreating the world of Farmyard Tales inspired by the original Stephen Cartwright illustrations, and he's really able to capture the way Stephen worked. This means we can now send Poppy and Sam on different adventures and create brand new stories, which is a very exciting feeling!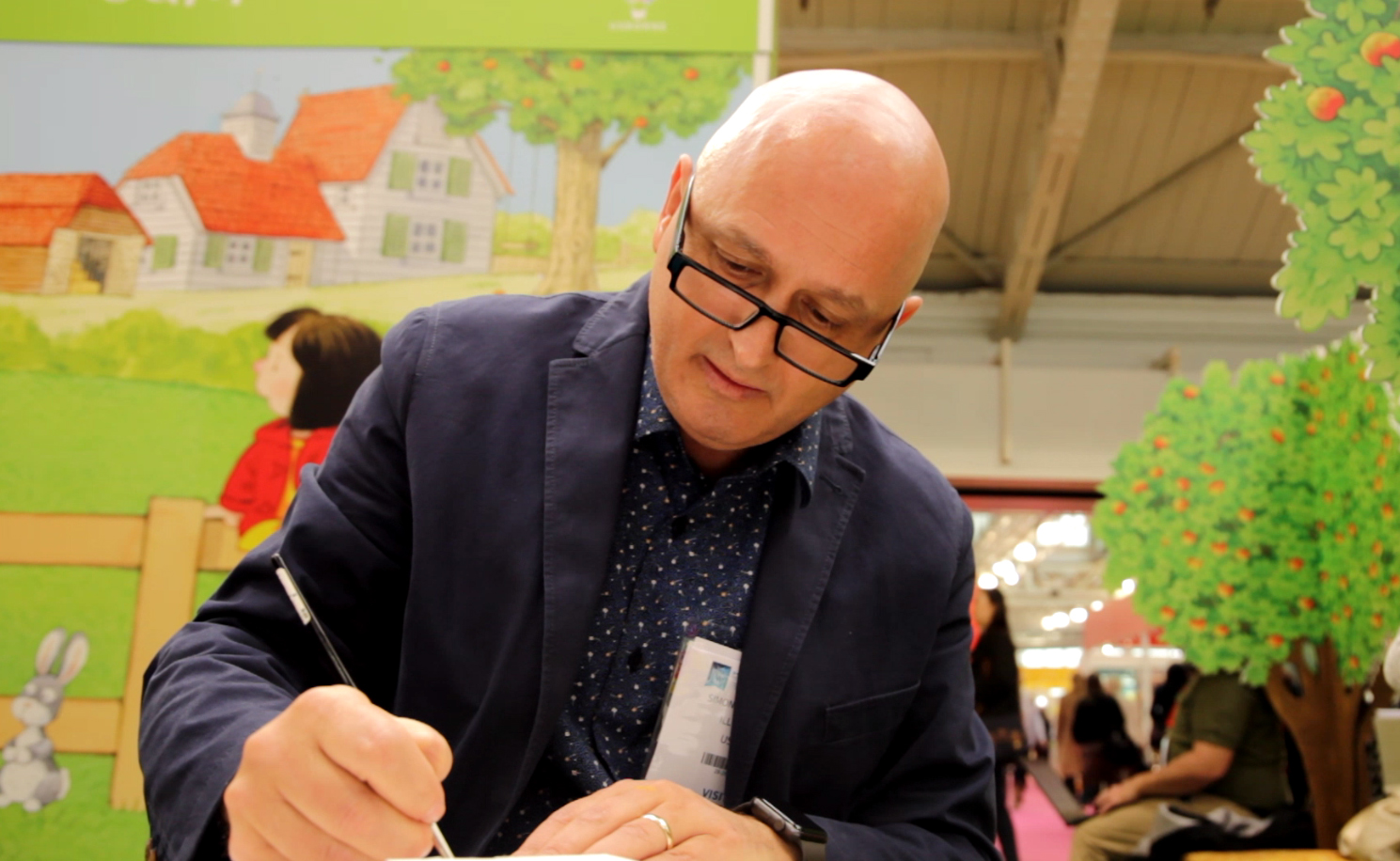 Simon Taylor-Kielty at London Book Fair 2019
I've been a massive fan of Stephen Cartwright for years. When my son was little we used to read Stephen's books together and loved finding the Little Yellow Duck on each page. When I was asked to illustrate new books for Usborne in Stephen's style, it was a dream job for me. I wanted to work in the same style and method as Stephen, and stay true to his vision – I even talked to him in my head when I was painting. Doing this work, I felt it was really important to get into Stephen's headspace and empathise with him. I wanted to really honour his legacy.
We can also bring in all kinds of novelty elements that we weren't able to use the first time around. Poppy and Sam's Animal Sounds was a particular pleasure to work on. This is an embedded sound book, so you press the pages and hear the noises of the various animals on the farm. These are such fun because we create each noise individually with Anthony Marks, our expert sound producer.
We also have new Poppy and Sam books in our very popular Magic Painting and Fingerprint Activities series where you can follow Poppy and Sam and Rusty through their day adding flowers in the meadow or birds in the tree to bring the scenes to life. Poppy and Sam's Easter Egg Hunt is a little board book full of holes to peep through to help Poppy and Sam find the Easter eggs. So, along with rebranded classics such as Poppy and Sam's Animal Hide and Seek, we have a mixture of old favourites and hopefully new favourites to come.
Finally, readers of the original series will be pleased to hear that the famous Little Yellow Duck will be hiding in the pages of every new book and story, just waiting for you to find him!'
Visit the Poppy and Sam page to meet the characters of Apple Tree Farm and download some free activity sheets.

Rusty the dog