Behind the scenes at Usborne
Behind the Scenes: Writing Usborne's First Coding Books
If you're a fan of our original coding books from the 1980s, you'll be excited to hear that we've made 14 of the most popular titles free to download from this website!
Our Digital Director, Lisa Watts, was part of the team who wrote our original coding books. We asked her to tell us all about it…
"In the 1980s Usborne published the first, illustrated children's books on computers and coding – or programming as we called it then.
I was part of a team of Usborne editors who worked with computer experts, including 16-year-old programmers, to write Usborne's programming books. It all began when Peter Usborne brought a ZX81 into the office, arguably the first really affordable home computer. It only had 1KB of memory, but that seemed incredible at the time! We were thrilled to make our names appear on the TV screen, and play simple games of Pong.
We had every model of personal computer in the office and laboriously typed in the listings for spacegames and battlegames on all the different machines to make sure they worked. We weren't computer experts and we taught ourselves to program through working on books such as Programming Tricks and Skills, BASIC for Beginners – and even Machine Code for Beginners.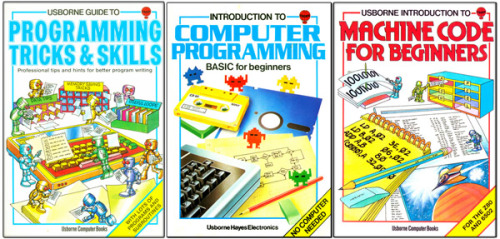 For Usborne, the challenge was to use images as well as words to convey the information and make the books visually attractive. We used pictures of teams of helpful little robots, space invader-type characters, speech bubbles and step-by-step cartoons to explain concepts such as ROM and RAM and variables and subroutines.
It was in the heady, empowering days of the first affordable personal computers such as the ZX Spectrum, the Commodore 64, BBC micro, TRS-80 and other names all but forgotten now apart from by the kids who grew up with them and spent hours typing in the listings for simple shoot 'em down style games and adventure games — and teaching themselves to code."
Many of today's tech professionals were inspired by Usborne computer books, and the books are still used in computer clubs with 1980s computers today. To celebrate this we have made 14 of the Usborne 1980s computer books free to download from this website.