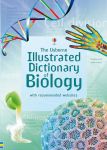 Usborne Illustrated Dictionary of Biology
Age: 11+
US$12.99
Usborne Illustrated Dictionary of Biology
Buy from:
An essential reference book which explores key concepts and basic ideas of biology, all clearly explained with simple text, colourful pictures and diagrams.
Topics are arranged by theme and include the human body, living things and their environments, plants, reproduction and genetics.
With internet links to educational websites for further learning.
Extent:

128 pages

Dimensions:

6.9 x 9.7in

Paperback (direct sales) ISBN:

9780794515591

Publication Date:

November 2006

Work Reference:

01031
Quicklinks
Visit Usborne Quicklinks for links to websites with carefully selected videos and activities for this book.