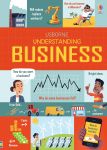 Understanding Business
Age: 8+
US$12.99
Dive into the world of business with this lively introduction, whether you want to be an entrepreneur or a smarter consumer. With bright, infographic pictures, it describes how to start your own business, manage your money and beat the competition and explains global supply chains and interest rates. Includes links to websites to find out more.
Extent:

128 pages

Dimensions:

6.9 x 9.5in

Paperback (direct sales) ISBN:

9780794544201

Lexile:

830L

Publication Date:

September 2018

Work Reference:

04677
Quicklinks
Visit Usborne Quicklinks for links to websites about business, where you can meet young entrepreneurs and find out how to start your own business.