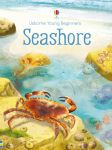 Seashore
Age: 3+
US$4.99
A lovely first book about the seashore with very simple text for young children to read themselves. Beautifully detailed scenes illustrated by Cinzia Battistel show plants and animals that live by the sea, from a puffin feeding its chicks, to crabs and turtles scuttling across the sand.
Extent:

32 pages

Dimensions:

6.1 x 8.3in

Hardback (direct sales) ISBN:

9780794540319

Accelerated Reader Book Level:

2.8

Accelerated Reader Interest Level:

Lower years (LY)

Publication Date:

March 2017

Work Reference:

03337
Quicklinks
Visit Usborne Quicklinks for links to websites with carefully selected videos and activities for this book.