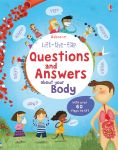 Lift-the-flap Questions and Answers about your Body
Age: 4+
US$14.99
Lift-the-flap Questions and Answers about your Body
This Lift-the-Flap book contains the answers to the many questions that curious children have about their bodies, including 'How do I smell?' 'What makes me burp?' 'Why do I need to wash my hands?' 'Why is blood red?' and many more. This engaging book is filled with entertaining and informative illustrations to help to answer all kinds of body questions that young children ask, in a friendly and simple way. Includes over 60 flaps to lift; sure to satisfy even the most inquisitive children!
Extent:

14 pages

Dimensions:

8.7 x 11.1in

Board (direct sales) ISBN:

9780794521790

Publication Date:

October 2013

Work Reference:

02932
Shortlisted
School Library Association Information Book Award 2014
Shortlisted
Royal Society Young People's Book Prize 2014
Quicklinks
Visit Usborne Quicklinks for links to websites with videos and activities that answer more why, what, where and how questions about your body.