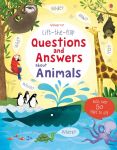 Lift-the-flap Questions and Answers about Animals
Age: 5+
US$14.99
Lift-the-flap Questions and Answers about Animals
This delightful book answers all kinds of animal questions that young children might ask, such as "where do fish sleep?", "do elephants have teeth" and "why do frogs jump?" Just lift the flaps to discover what, where, which, how and why! With entertaining illustrations and over 50 flaps to lift and look beneath.
Extent:

14 pages

Dimensions:

8.7 x 11.1in

Board (direct sales) ISBN:

9780794528775

Publication Date:

June 2014

Work Reference:

02933
Quicklinks
Visit Usborne Quicklinks for links to websites with videos and activities that answer more why, what, where and how questions about animals.