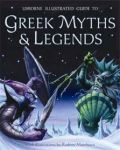 Illustrated Guide to Greek Myths and Legends
Age: 10+
US$11.99
Illustrated Guide to Greek Myths and Legends
Buy from:
Exciting stories of Greek gods, goddesses and heroes vividly retold for young readers. Includes a "Who's who" guide to each character, including, Icarus and Daedalus, Zeus and Atlas and their role in Greek mythology. Contains an informative section on the ancient Greek people and their beliefs. Dramatically illustrated by Rodney Matthews.
Extent:

64 pages

Dimensions:

7.9 x 9.8in

Paperback ISBN:

9780794528836

Publication Date:

November 2007
There was a period during my childhood when the characters of Greek mythology and knights of Camelot vied for my affections. The first were delivered primarily via the peerless Usborne Book of Greek Myths and Legends, over which I'd pore minutely (paying particular attention, for reasons perhaps best left unexplored, over the page devoted to the escapades of "wicked women").
Recommended for those wanting to learn more about Greek Mythology.