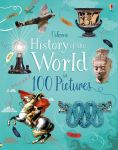 History of the World in 100 Pictures
Age: 7+
US$9.99
History of the World in 100 Pictures
Discover how great empires rose, famous battles were won, and how artists, inventors, scientists and explorers changed our world through 100 amazing pictures. This informative book covers history from the Stone Age to the present day and includes contents and index pages, plus links to specially selected websites with more information.
Extent:

32 pages

Dimensions:

8.7 x 11.1in

Hardback (direct sales) ISBN:

9780794542351

Publication Date:

January 2019

Work Reference:

04563
Quicklinks
Visit Usborne Quicklinks for links to websites with carefully selected videos and activities for this book.