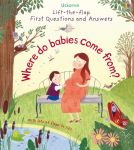 First Questions and Answers: Where do babies come from?
Age: 4+
$14.99
Series: First Questions & Answers
First Questions and Answers: Where do babies come from?
Buy from:
A delightful way for young children to discover where babies come from – from baby humans to kittens, caterpillars and kangaroos. Young children can lift the flaps to find out how babies are made, when they are born, what new babies need and how they grow. A charming, age-appropriate introduction to the facts of life to share with young children.
Extent:

12 pages

Dimensions:

7.9 x 8.8in

Board Book ISBN:

9780794545307
Longlisted
SLA Information Book Award 2017
A book which answers kids' questions in the most delightful and inventive way... The facts of life made fun and fascinating.
In this ingenious book all those awkward questions can be
answered without making the subject too scary or complex.
The questions surrounding how and why mummy's tummy is getting bigger is a struggle for many parents to answer. This lift-the-flap book has got things covered, explaining the facts of life to younger children in preparation for baby entering the world.
This is a super book and it's perfect for answering those tricky questions that often leave parents a bit lost for words.