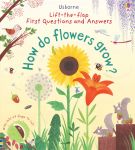 First Questions and Answers: How do flowers grow?
Age: 4+
US$14.99
Series: First Questions and Answers
First Questions and Answers: How do flowers grow?
How do flowers grow? Where do seeds come from? Why do leaves fall? Little children can find out the answers to these questions and more in this beautifully illustrated lift-the-flap book. Each page asks a different question, such as "Why do plants have flowers?" The colorful illustrations, large and simple text and chunky flaps reveal the answers. Children can discover a bee's favorite flower, see inside a spiky conker shell and see how trees lose their leaves in winter. A brilliant introduction to nature and science for curious young minds.
Extent:

12 pages

Dimensions:

7.9 x 8.8in

Board (direct sales) ISBN:

9780794534646

Publication Date:

May 2015

Work Reference:

03372
Shortlisted
Royal Society Young People's Book Prize 2016
Longlisted
School Library Association Information Book Award 2016
A perfect introduction to the natural world.
Exquisitely illustrated, a delight to look at.
The illustrations are typically colourful and fun, and like the other Usborne lift-the-flap books that we have at home, there is plenty to discover on every page.
This beautiful book provides an exciting and interesting opportunity to engage your little one's natural curiosity in exploring nature and early science concepts. Plus reading and learning all about the lifecycle of plants is perfect for building on developing a further interest in gardening and growing!
This book is exquisitely illustrated, a delight to look at, it's the sort of thing that really intrigues young children. But it's also really informative. What it has is the correct science and at the level that's right for its young readers - and it's beautiful to look at.