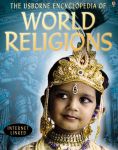 Encyclopedia of World Religions
Age: 8+
US$14.99
Encyclopedia of World Religions
Buy from:
A thought-provoking book which offers a balanced exploration of the beliefs, history and customs of the major world religions, as well as many lesser-known faiths. Beautiful photographs and engaging illustrations, maps and diagrams complement the informative text. With internet links to recommended websites to explore the beliefs and practices of each religion in more detail.
Extent:

128 pages

Dimensions:

8.6 x 11.1in

Paperback (direct sales) ISBN:

9780794527532

Publication Date:

January 2010

Work Reference:

01476
This beautiful guide includes information on religions around the world.
An excellent reference resource for children, it is highly accessible, combines printed material with excellent illustration, photographs and reviewed Internet links encouraging readers to improve their research skills and deepen their levels of understanding.
Quicklinks
Visit Usborne Quicklinks for links to websites with carefully selected videos and activities for this book.