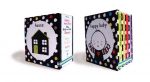 Baby's Very First Black and White Little Library
Age: 0+ months
US$7.99
Series: Baby's Very First Books
Baby's Very First Black and White Little Library
Buy from:
A delightful mini boxed set containing four titles from the popular Baby's Very First Black & White series: Animals, Going Out, Babies and Faces. Each book features high-contrast black and white illustrations specially designed for babies to focus on. With thick board pages, the books are perfect for sharing or can be propped up for babies to see by themselves. A lovely little library of first books which makes an ideal gift.
Dimensions:

3.4 x 3.7in

Paperback (direct sales) ISBN:

9780794532413

Publication Date:

December 2011

Work Reference:

02721
Perfect for little hands to hold, infants will love to share these books with parents or older readers.
I find little books this size great for slipping in a handbag or pocket so when I am out and about I can quickly pull one out as a distraction. I can see these books are going to get used a lot for the whole 1st year of life.