See inside
Zoom image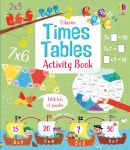 Times Tables Activity Book
Age: 6+
US$9.99
Times Tables Activity Book
Buy from:
This bright, write-in activity book will make learning the 2 to 12 times tables a pleasure, with doodling, dot-to-dots, mazes and more. Activities are arranged by table, with helpful tips and quizzes to test yourself at the end of each section - and you'll find all the answers at the back of the book.
Extent:

64 pages

Dimensions:

8.5 x 9.8in

Paperback ISBN:

9781805318156

Work Reference:

03870
Colourful and very well thought through. It was great for new starters like my daughter but would also be good for older children as a refresher.
I thought that the book was good fun - well about as fun as you can make times tables!
This book gives an amazing variety of ways to practice and remember your times table. We would thoroughly recommend this book to anyone trying to get to grips with their times tables.
This book looks brilliant!! Lots of varied activities to capture attention and aid understanding of multiplication.
This is a wonderful book, jammed packed with cool stickers and activities for the x2 to x12 tables. I used it with my Year 5 class, and my six year old daughter, and both thoroughly loved it. For older children it provides quick mental maths that keeps them ticking over on the times tables they need to consolidate. For the younger child it provides a great start to how times tables work.