Parents: Children should be supervised online. Please read our online safety guidelines.
Usborne is not responsible for the content of external websites.
Fold-Out Dinosaur Timeline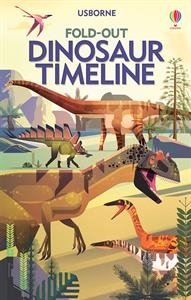 Discover the Quicklinks for this book
Age: 6+
Travel back in time to the age of the dinosaurs with videos, podcasts and audio guides that answer questions like:
How do you say dinosaur names?
Could we have lived with the dinosaurs?
What was life like when dinosaurs were around?
Scroll down to see all the links