From London to Brighton: an Usborne fundraising ride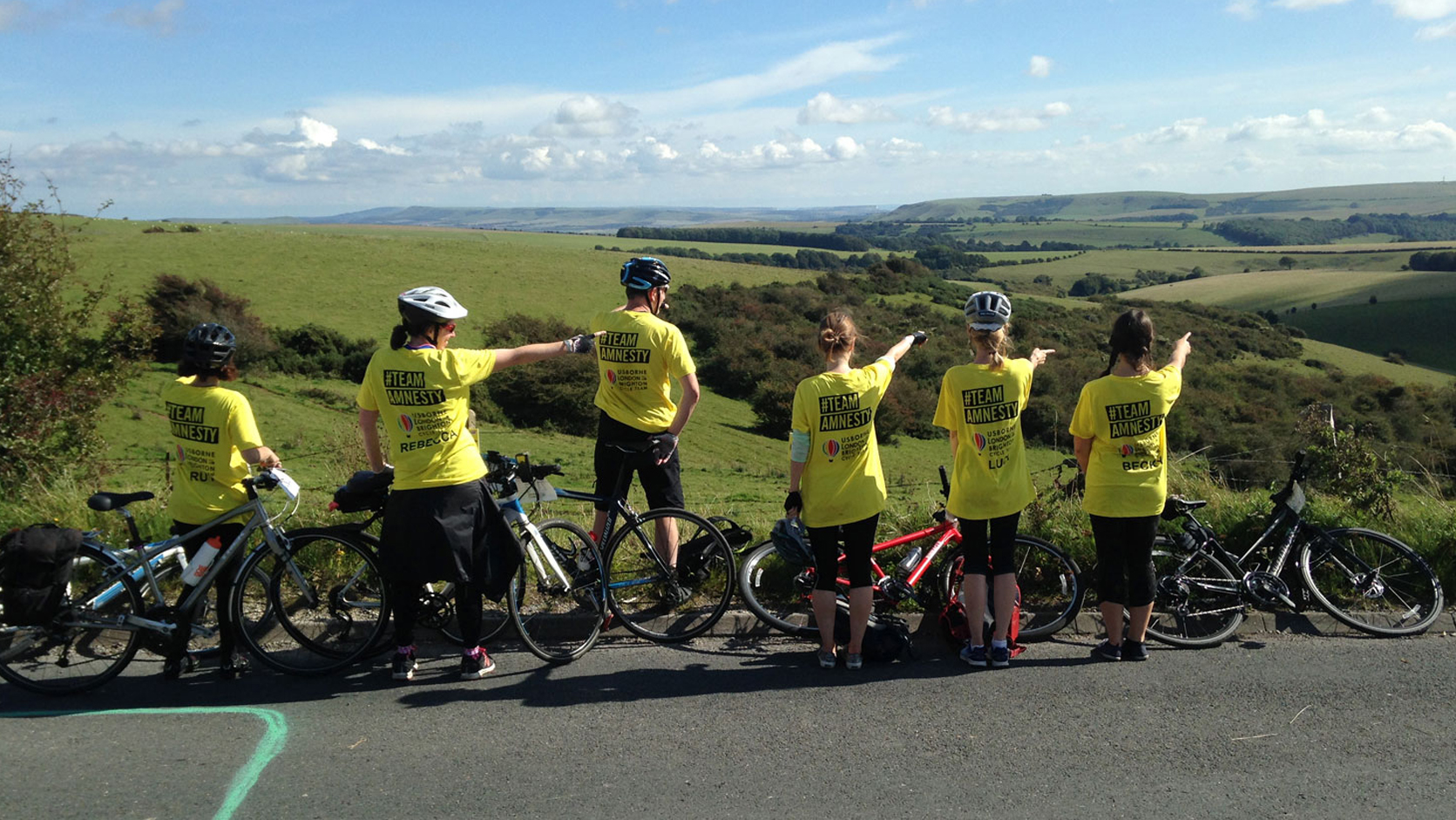 With slightly bleary eyes, and a chill in the air, eighteen Usbornites and honorary Usbornites found themselves gathered on Clapham Common, bicycles in hand and resplendent in yellow T-shirts. The reason? The London to Brighton cycle ride in aid of Amnesty International.

The full Usborne team
Team photos taken, and without so much as a fanfare – rather a "Can you move any faster?" as the traffic lights turned green – we were off, cycling into the unknown…
Greenery, it seemed, was the theme of the day, and there were some glorious sights to behold. The lovely ladies at mile eight waving a non-partisan Union Jack flag were wonderfully cheering, as was the essential chocolate-bar stop five miles later.
Before we knew it, we were traversing up Turner's Hill and round the corner for lunch at mile twenty-nine. A muddy field bedecked with groaning tables of carbohydrates has never looked so good! Tea, coleslaw and a packet of crisps or three made for a hearty pit-stop, while shared stories of what we'd enjoyed so far filled the air.
It was buoying indeed to see the amazing amalgam of assembled riders, and the charities they were supporting. We'd already spied a Batman and Robin on a tandem, a BMX-er and a very cheery chap in jean shorts and little else en route, and there was something very special about feeling part of this bigger picture.

The team stop for lunch
But time was of the essence – especially for our front-runners, Mitch, Andrea, Lou, Garry and Will, who had long since sped onwards – and so it was time to shake out the legs and find our footing once more. Onwards! And, as we were to find out, upwards!
As the mile-o-meter hit the thirties, there was a definite sense of achievement building, and several glorious swooping downhill turns put the wind in our hair, and big grins on our faces. We waved hello and said goodbye to Haywards Heath, Wivelsfield and Burgess Hill – and were spurred on by Rebecca's family waving some very artistic banners as we passed.
Meanwhile, Ditchling Beacon (the third highest peak in the South Downs) loomed large at mile forty-five. "It can't be that steep, surely?" our voices sang. Ditchling Beacon remained silent on the subject.
Then, suddenly, there it was. With a quiet sense of solidarity uniting all the cyclists in their uphill pursuit, we huffed and puffed our way up. Special mention must go to Will, Lou, Garry, Mitch, Andrea, Jenny, Ruth, Neil, Kirsty and Keely for becoming "Beacon Beaters" and remaining in the saddle from bottom to top. A second special mention must also go to Rebecca, Christian, Lucy, Nickey, Poppy, Joel, Nicola and Becky for making it up there, come hell or high water.

Sisters Kirsty and Keely Tizzard atop the Beacon
And what a view we were rewarded with! The sight of the fields cascading down towards the sea was breath-taking – and, with the water in eyeline, it felt as if we were on the home straight.

Conquering the Ditchling Beacon
With nine miles to go, we swooped into Brighton with the seagulls. From the astonishing time of 3 hours and 33 minutes for Mitch, to the incredible effort from every member of Team Usborne, all eighteen of us came away clutching our medals and a real sense of accomplishment.
Three months of training, fifty-four miles from start to finish, and over £8,000 raised for Amnesty International (Usborne will be matching our final fundraising total which currently stands at £4,153). I'd call that a success, all in all.
Many, many thanks to everyone who supported, sponsored and spurred us on – Team Usborne truly couldn't have done it without you. And a big thank you to Brian, for his support from start to finish.
We're so thrilled to have raised over £8,000 for Amnesty International, whose incredible work supports and promotes human rights the world over. There's still time to donate, and you can find out more on our fundraising page.
Team Usborne are: Andrea Parsons, Becky Walker, Brian Voakes, Christian Herisson, Kirsty Tizzard, Keely Tizzard, Garry Lewis, Jenny Browne, Joel Hopkins, Lou Bartlett, Lucy Wain, Mitch Johnson, Neil Francis, Nickey Butler, Nicola Usborne, Poppy Pearce, Rebecca Hill, Ruth Brocklehurst and Will Steele

The London to Brighton medal