A Book Mission - How a team of Organisers gave away £50,000 of books to schools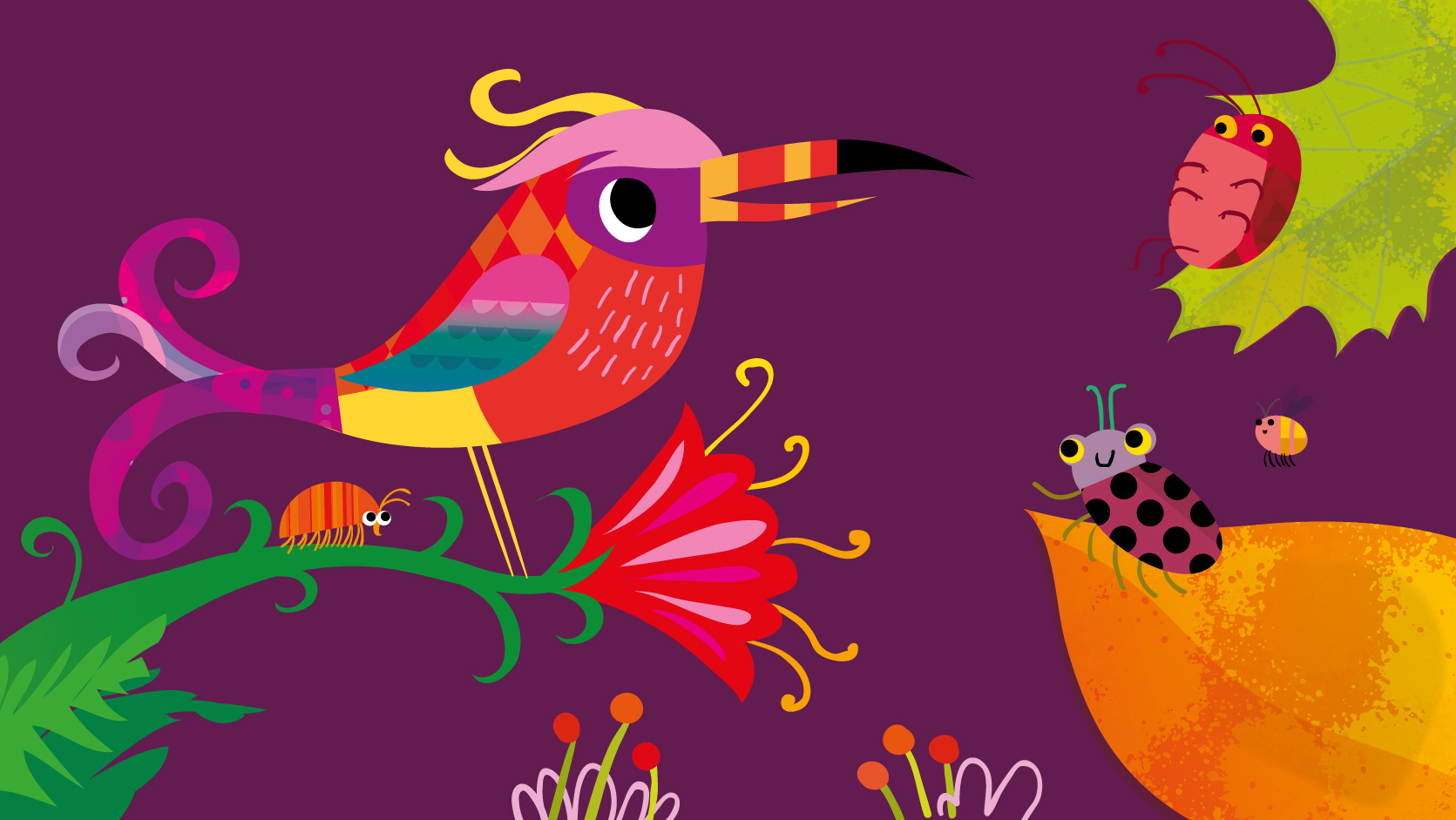 Working with schools is one of the best things about being a children's publisher and we are proud to have worked with over a thousand schools in the UK in 2020. With lockdowns, school closures and huge concerns over a growing educational gap, it is more important to us than ever before to support schools in promoting literacy, learning and a love of reading for pleasure. Our army of Independent Usborne Organisers are incredibly passionate about helping schools to improve their reading resources and work with schools to run free events that inspire young readers, boost literacy, and fill classrooms and libraries with free books.
Independent Usborne Organiser Carron Charlesworth and her team of Organisers decided to set themselves a huge challenge for 2020, to give away £50,000 worth of books to schools. Their determination to hit this target was unstoppable, and not even a global pandemic could get in the way of it!
Carron explains why working with schools is so important to her and her team:
"Purchasing new books can be a big financial challenge for schools and nurseries, and at the beginning of 2019 I had an idea, and I threw down the gauntlet to my team to give away £50,000 worth of books – so we set off booking in school and nursery events."
"We decided that we would only count free book allowances (Usborne gives schools up to 60% back in free books when they host an event), so it was a real reflection of how schools can completely transform their libraries and classroom bookshelves without touching any of their budget! We had made a great start to the year and were so thrilled with the difference that we'd been able to make to so many schools, but then the global pandemic hit and we had to rethink the services we were offering to schools to make sure that they matched their needs and didn't put any extra pressure onto teachers. Children always need books and a global pandemic wasn't going to stop us trying to get them to them!"
"We persevered and we were absolutely delighted to achieve our goal in September! We are beyond proud knowing that our hard work with more than 100 schools and nurseries has helped so many children to access Usborne books for free."
"Book fairs are my favourite ways of working with schools – I love seeing the children's faces when they come for their Book Look! One of my Book Fairs ran over one day, and two parents' events and the total sales from the event was £1615, giving the school £970 in free books of their choice for their classrooms and school library!"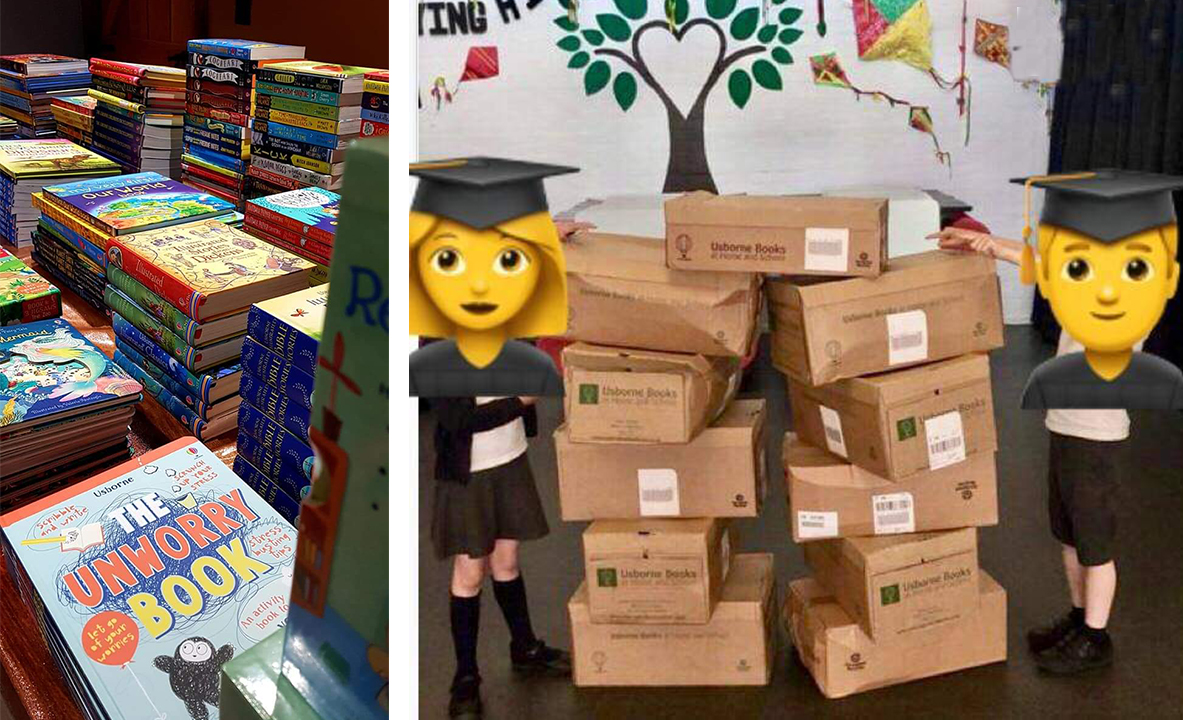 Books given away by Gasha Vorster and Carron Charlesworth
Independent Usborne Organiser Gasha Vorster held a Ready Steady Read… event which raised an amazing £2157.71. With an extra 60% in free books from Usborne, the school had an incredible £3453 to spend on books of their choice.
Gasha tells us more about the event and how she connected with the school in spite of the restrictions:
"The whole process was done remotely. We had a few video calls, emails and messages between us to arrange the whole event. The PTA as well as the teachers were very excited, and really got involved. Usborne reading events are all about the little details, so we personalised the reading logs that children used to record their reading to compliment what they were learning in school."
"The school is only an infant school with about 200 children, and the head teacher could not believe how successful the Ready Steady Read… had been! There was a huge celebration at the end, and reluctant readers who really stepped it up for the event were celebrated just as much as those who raised a lot of money. There was such a special sense of community in the school and a great dose of healthy competition to go with it!"
Independent Usborne Organiser, Laura Wardell (who is also a teacher) tells us about one of her events:
"I love getting books into the hands of schools, and one of the first schools I worked with was for a friend. They fully embraced their Ready, Steady, Read… sponsored reading event and had children creating whole books of the craziest places they could think to read. One even laminated a page of text and went scuba diving! It was such an amazing experience to go into the school to show them all the fabulous books they had received for their school and they gave me one of their famous 'whoosh'es of appreciation! They welcome me back every year and I'm looking forward to seeing them smash their record in 2021. The children raised £960, and their PTA added £600 to that – with an extra 60% in free books from Usborne, the school received £2496 worth of books!"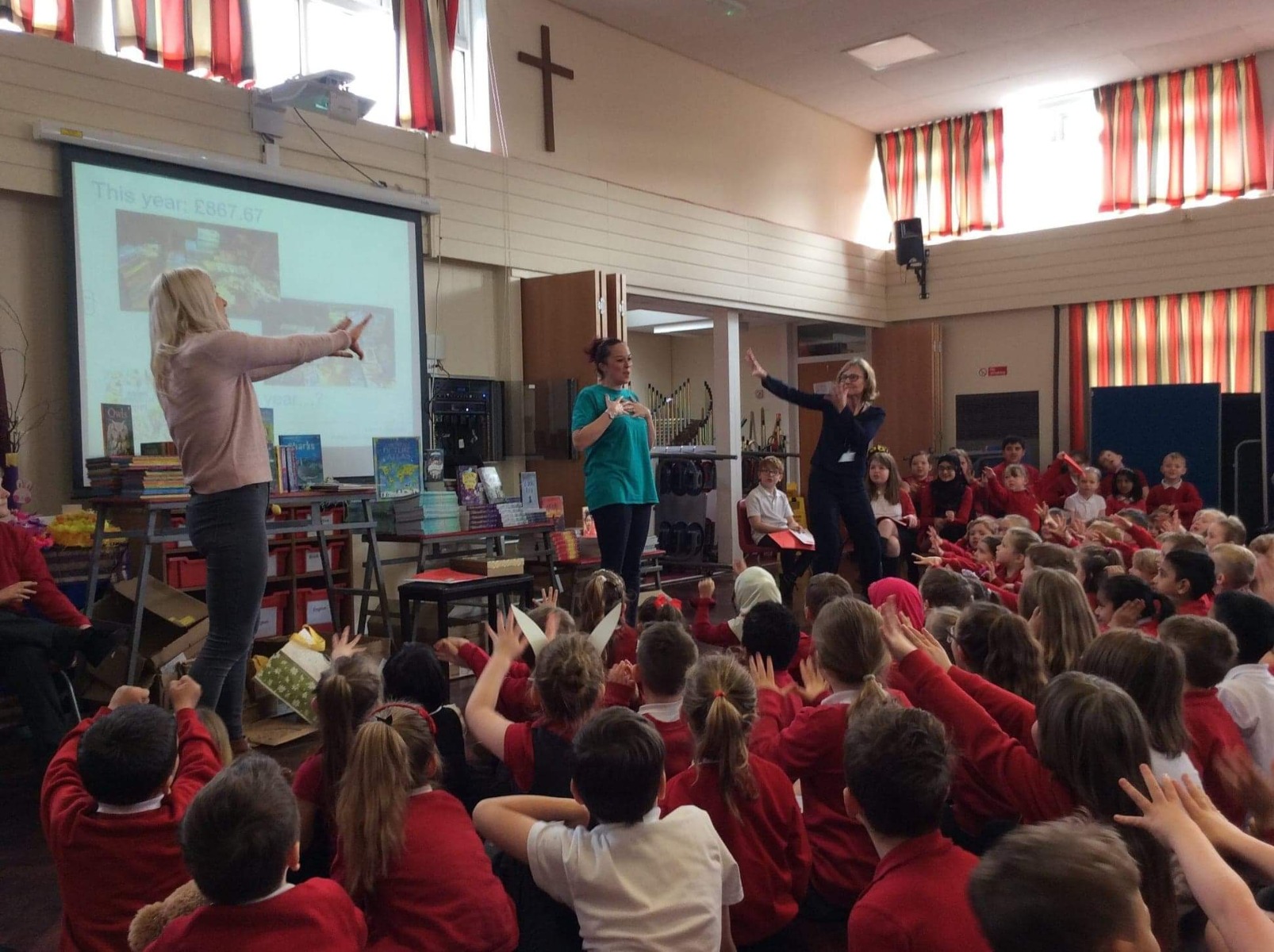 Laura Wardell's inspiring event
Carron concludes: "As a team, having our Book Mission to focus on really helped us build some great relationships with lots of school and nursery staff. We're grateful to be a position where we can help promote literacy, learning and a love of reading all whilst supporting schools to fill their bookshelves for free."
If you are interested in finding out more about the free events that your school could have and the free books that you could get as a result, check out our events page for more information or get in touch with your local Independent Usborne Organiser.
About the Author
Lucy Raby is part of the Usborne Books at Home family and works as their Schools Marketing Editor, focused on helping all children to access books that will spark their imagination. A qualified teacher, she is passionate about literacy and learning and encouraging children to read for pleasure.