The Usborne Academy Week is an initiative to encourage a more diverse range of people to work in publishing
In 2018 we launched The Usborne Academy Week, an opportunity for eight people, from groups currently under-represented in publishing, to spend a week at Usborne and experience daily life in a range of different departments including editorial, design, marketing, production and rights.
The first year was a huge success so we did the same in 2019: providing central London accommodation for all eight Usborne Academicians, along with train fares from anywhere in the UK and a London travelcard for the week. We also paid the London Living Wage for the full 40-hour week.
Across the first two years of The Usborne Academy Week, we hosted 16 people who all reported having a really useful experience: leaving Usborne with a better understanding of what happens inside a publishing company, and more confidence to apply for a job in the publishing industry.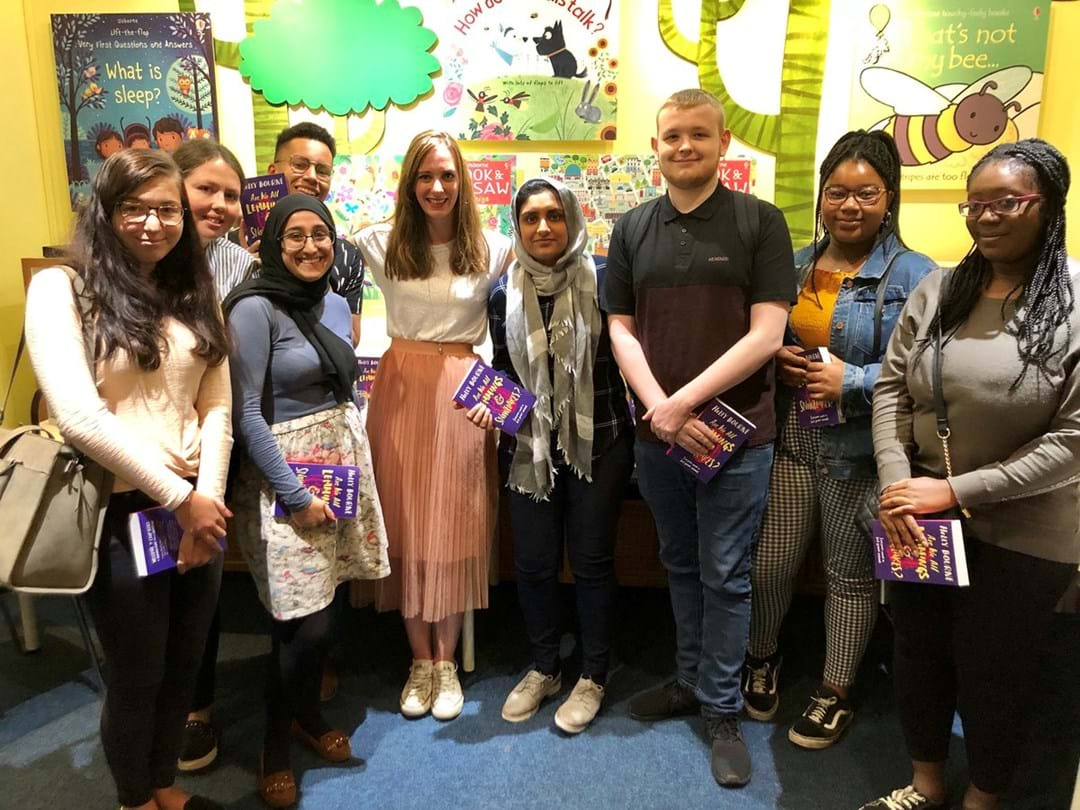 The Usborne Academy 8 from 2018 get a personal book signing session with author Holly Bourne
"I had a wonderful time in @UsborneRights on Thursday & generally at @Usborne over the week. The Usborne Academy is such a wonderful and supportive programme & I really hope other publishers follow in Usborne's footsteps!"
Due to the coronavirus pandemic, we were unable to run The Usborne Academy in 2020. Instead, we partnered with Access Aspiration, a project funded by the Mayor's Fund For London, to provide virtual 'employer encounters' which are accessible to the students in their network of over 300 London state secondary schools. You can find out more about Access Aspiration and their work on our Promoting Diversity page.
In 2021, having taken on board feedback from partners, consultants and our wider communities, we shall be running The Usborne Academy exclusively through Access Aspiration. They will be selecting students from their network of 16-18 year-olds to join us, at our offices, for a week-long opportunity to go behind-the-scenes at Usborne, getting hands-on in a range of departments and finding out what we do, and why we do it.
Over half of the 30+ state schools which Access Aspiration works with have Pupil Premium rates of 50–65%, and over two thirds of the students it supports are from Black, Asian and Minority Ethnic backgrounds. We hope that, by working closely with Access Aspiration and its network of London secondaries, we will be able to showcase what we believe is an exciting, creative and collaborative industry, and that some of these extremely talented young people might be inspired to pursue publishing as a career in the future.