Behind the scenes at Usborne
Adventure gamebooks: are you ready to step into the world of Shadow Chaser?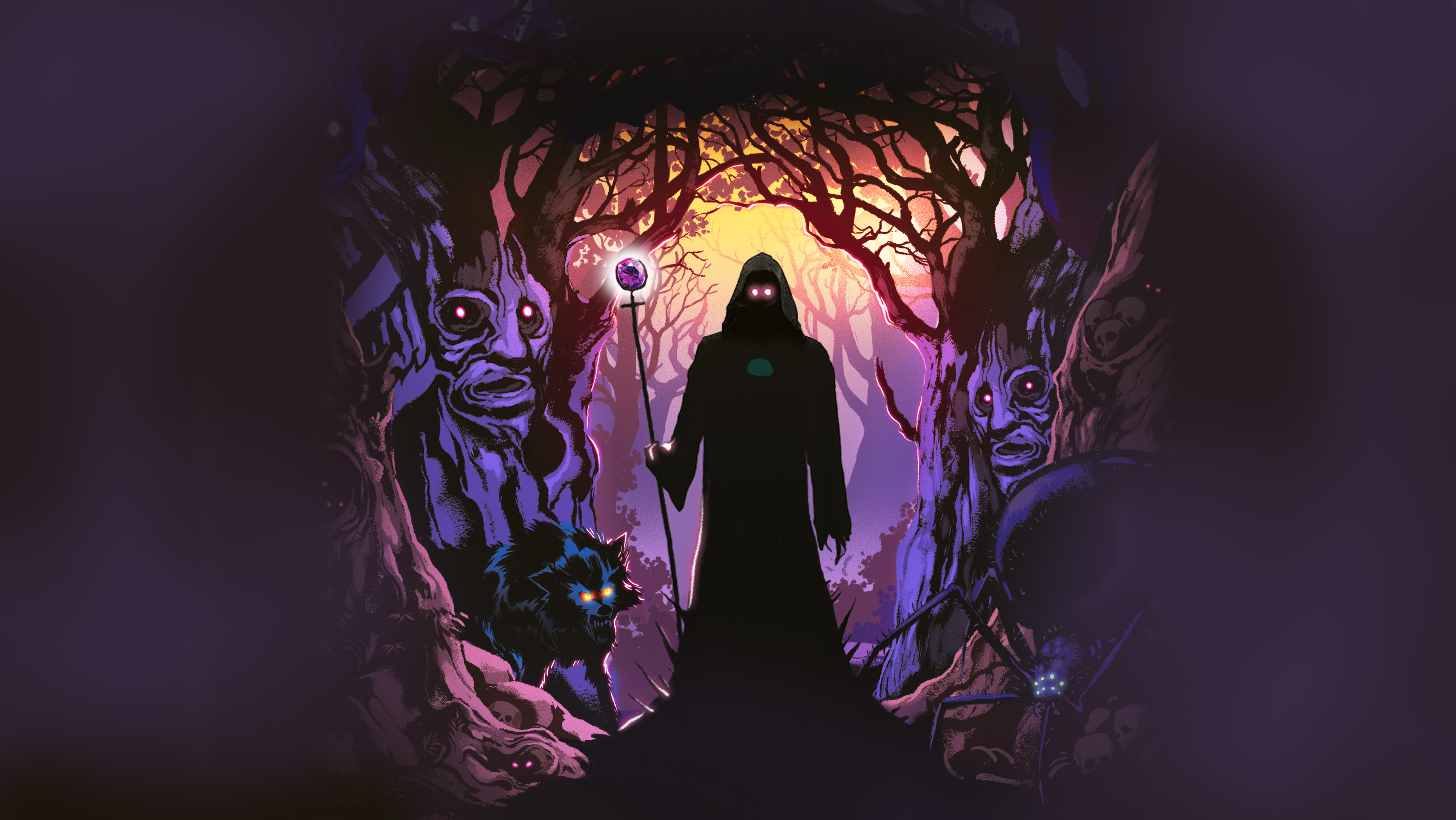 Usborne author Sam Taplin explains how we created this new fantasy gamebook:
I once got the same book for Christmas two years in a row – and I couldn't have been happier when I unwrapped the second one because I'd practically destroyed the first by reading it so much. The object of my fascination was an "adventure" gamebook, and it's hard to express quite how thrilling I found it. I loved all kinds of stories, but here was a story where I wasn't just reading about something amazing – I was right there in the middle of it! I could choose what to do, where to go, whether to fight the goblin or run away…
There was something magical to me about this – it looked just like other books, but hidden inside it was a whole world I could step into and lose myself in. I spent many a long summer's afternoon sitting with my dice and my increasingly battered paperback, going on extraordinary adventures.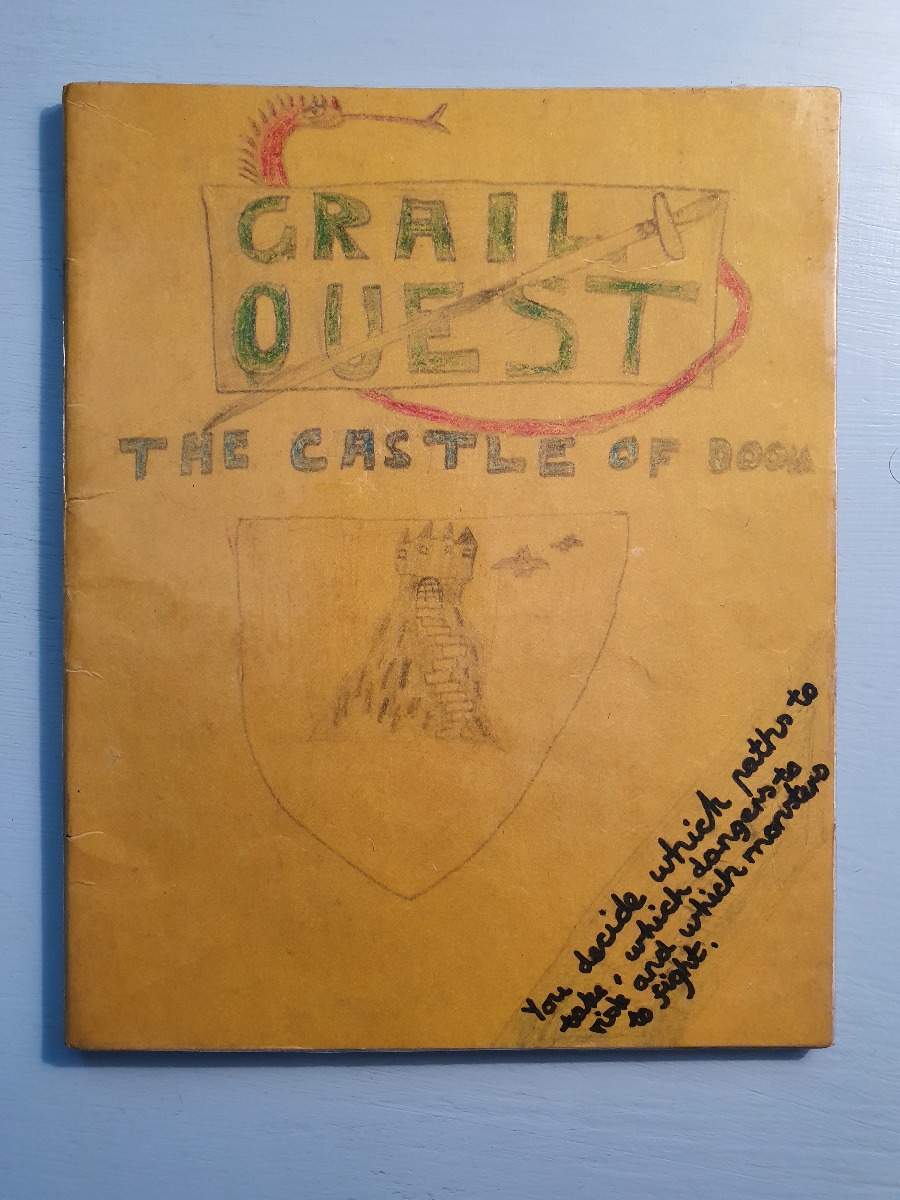 A homemade Choose Your Own Story book written by Sam's brother when they were kids
My brother Tom loved these books too – so much, in fact, that he wrote one himself in a little yellow exercise book: The Castle of Doom. I still have it. If you had told me then, at the age of nine, that one day I would get to help create a gamebook that children other than me and Tom would read, I would have thought that was the coolest thing in the universe.
Which brings me to Shadow Chaser. It's been an enormous pleasure to watch this book take shape, and to have the chance to pour into it all of the things I loved about the books I grew up on, but also to add some brand-new elements that make it unique.
Brilliantly written by Simon Tudhope, Shadow Chaser sweeps you up in an epic tale that starts with a bang in the very first paragraph, when some menacing visitors come knocking in the night and you have to decide what you're going to do about it. A lot of gamebooks don't have much of a story – they tend to be basically about finding the treasure and slaying the dragon. This one is very different. It has a gripping narrative that unfolds with twists and turns, it has characters you care about and moments of real emotion, as you start to uncover the secrets of your past.
The other thing that makes Shadow Chaser stand out is the illustration: instead of just being there to create atmosphere (although Tom Knight's beautiful artwork certainly does plenty of that) each double-page picture in the book is also a puzzle to solve. To delve deeper into the story, you have to unravel the secrets and mysteries buried in the images. Nothing quite like this has been done in a gamebook before, and I think it really adds something and beckons you further in.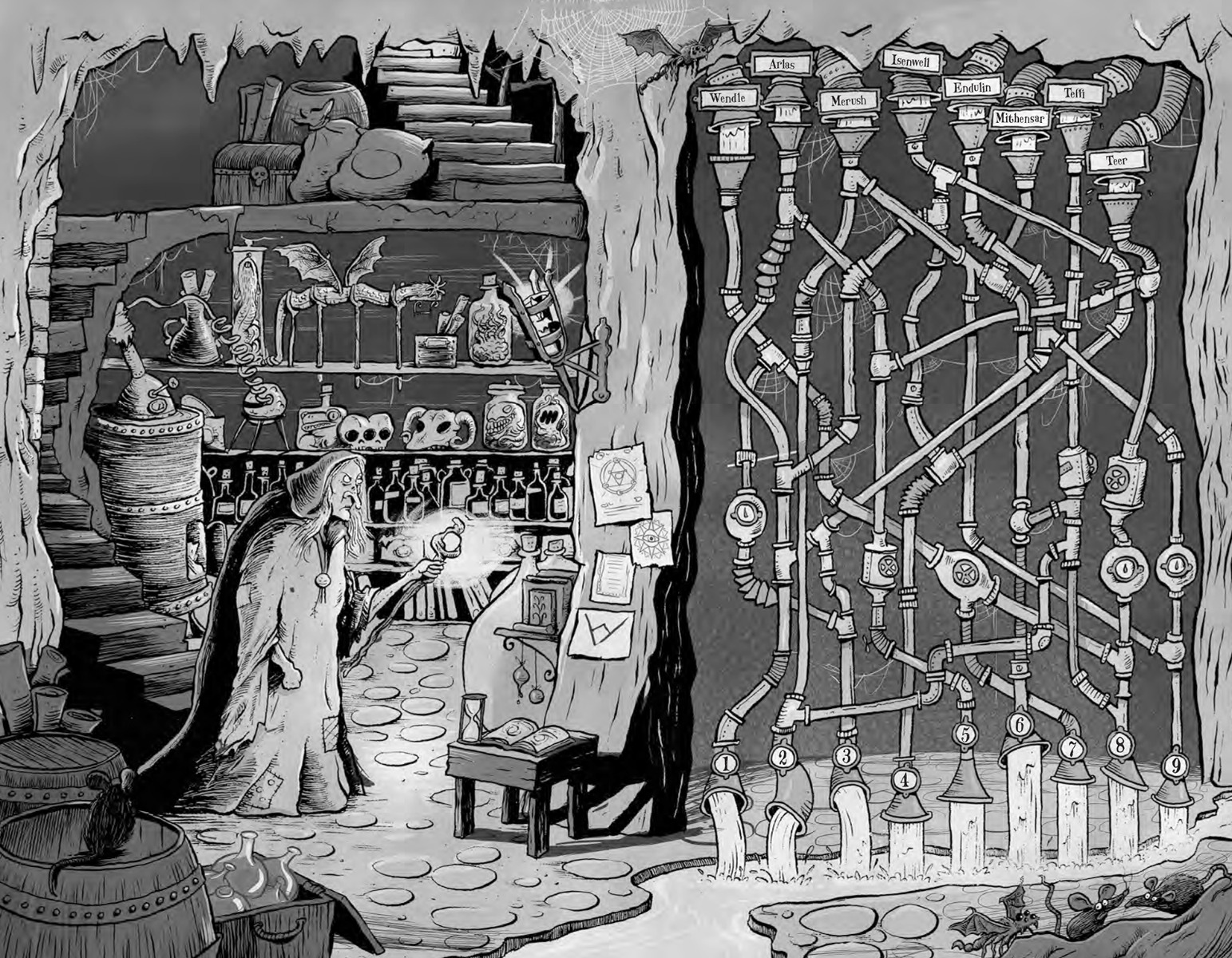 The Alchemist: a picture puzzle from Shadow Chaser
There are lots of reasons why it's great to be publishing an Usborne gamebook right now: fantasy roleplaying games are hugely popular again, with Dungeons and Dragons having its best ever year in 2020; it's also perfect for reluctant readers because the content is exciting but it's divided up into short, accessible chunks. And hopefully it's a way of persuading children to spend some time away from screens and immerse themselves in a world of imagination instead.
Those are the logical, sensible arguments for a book like this. But I had another motivation too – I made this book for my nine-year-old self, who would have been wide-eyed with anticipation when flicking through the pages for the first time. If it makes anyone else feel that way, then it's been an adventure well worth going on.
About the Author
Sam Taplin grew up in a beautiful valley in Yorkshire, where he dreamed of being a writer, and after three years reading other people's books at university he started writing his own for Usborne. He's been doing it ever since. When he's not writing about lonely rabbits or inquisitive bears, he likes doing card tricks, writing songs and playing long games of chess by the fire.