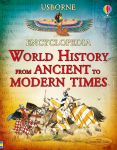 World History from Ancient to Modern Times
Age: 8+
US$19.99
World History from Ancient to Modern Times
This newly updated Usborne encyclopedia takes readers on a tour of world history, from ancient times to the start of the 21st century. Ancient Egypt, the Aztec Empire, Medieval Europe, the First World War and many more fascinating subjects. "12,000 Years of World History" includes an illustrated time chart, more than 100 maps, fabulous illustrations and photos, and links to more than 800 Usborne-recommended websites and more.
Extent:

320 pages

Dimensions:

7.4 x 9.4in

Paperback (direct sales) ISBN:

9780794533441

Publication Date:

January 2013

Work Reference:

00999
Quicklinks
Visit Usborne Quicklinks for links to websites with carefully selected videos and activities for this book.