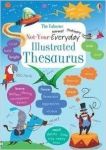 The Usborne Not-Your-Everyday Thesaurus
Age: 7+
US$12.99
The Usborne Not-Your-Everyday Thesaurus
A fantastic resource to help children boost their word power, both when writing and talking. Words and their synonyms are grouped in over 90 topics, including for example, animal words, noisy words, fairytale words, jobs, sports, monsters, weather and lots more. Children can choose a topic relevant for their story, or look for a word in the Word Finder index. Colorful pictures illustrate many of the word meanings, and there are writing tips, word games and internet links to other carefully chosen writing resources online.
Extent:

128 pages

Dimensions:

7.0 x 9.7in

Paperback (direct sales) ISBN:

9780794535704

Publication Date:

September 2015

Work Reference:

02937
Quicklinks
Visit Usborne Quicklinks for links to websites where you can browse online thesauruses and find word games and writing tips.