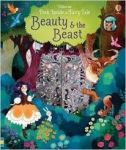 Peek Inside a Fairy Tale Beauty and The Be
Age: 3+
US$14.99
Peek Inside a Fairy Tale Beauty and The Be
A beautiful retelling of the classic fairy tale, with fabulous illustrations by Lorena Alvarez and intricate, cut-out windows to peek through. Little children will love following Belle and the birds into the Beast's house, discovering the shy Beast hiding in the garden, the harp that plays itself – and the handsome Prince in the mirror.
Extent:

14 pages

Dimensions:

6.5 x 7.7in

Board (direct sales) ISBN:

9780794539474

Publication Date:

February 2017

Work Reference:

04051
Shortlisted
Junior Design Awards 2017
A gorgeous board book retelling the classic tale of Beauty and the Beast for younger children.
A beautiful addition to any collection for both girls and boys.
Usborne's Peep Inside series has become a firm favourite with pre-schoolers and this exciting interactive book offers a beautifully illustrated retelling of the classic fairy tale Beauty and the Beast... Lorena Alvarez's busy, bold and atmospheric illustrations bring the story gloriously to life and the appealing cut-outs offer discussion, fun and the magic of discovery on every page.
The illustrations in this book are stunning and it's so colourful and engaging for little ones.
This book is gorgeous! Love the artwork and the different doors and windows you can peep through on each page. My daughter and I loved it!