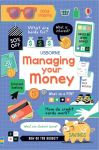 Managing Your Money
Age: 11+
US$6.99
This down-to-earth guide is filled with practical advice on everything from how to budget and be a smart shopper to student loans, mortgages and insurance. An essential book for equipping young people with the skills they need to manage their money now and in the future. Includes links to websites with more tips and advice.
Extent:

208 pages

Dimensions:

5.4 x 8.0in

Paperback (direct sales) ISBN:

9780794546915

Publication Date:

April 2019

Work Reference:

05003
Quicklinks
Visit Usborne Quicklinks for links to websites with video clips, online activities and downloadable guides to help you manage your money, from opening a bank account and making a budget to fun ways to earn money and where to find financial support for further education.