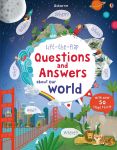 Lift-the-flap Questions and Answers about Our World
Age: 4+
$14.99
Lift-the-flap Questions and Answers about Our World
Buy from:
A beautifully illustrated, geography book full of flaps to lift to find answers questions such as "When can I see a shooting star?", "Where is the tallest waterfall?", and "What are clouds made of?".
Over 50 flaps to lift answer who, what, when, why and where questions about the weather and seasons, countries and languages around the world, what the Earth is made of and lots more.
With a map of the world showing many of the features mentioned in the book.
Extent:

14 pages

Dimensions:

8.7 x 11.1in

Board Book ISBN:

9780794535841
Quicklinks
Visit Usborne Quicklinks for links to websites with carefully selected videos and activities for this book.