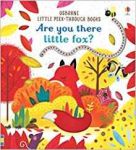 Are you there little Fox?
Age: 6+ months
US$9.99
Are you there little Fox?
Little fox is hiding! Very young children will love peeking through the holes and touching the textured pages in this fallal hide-and-seek board book, spotting a bear, squirrel and other animals as they search for the elusive little fox. A gorgeous book to share with babies and toddlers, perfect for fans of That's not my...